Two weeks ago, the bi-annual runway collections got off to a cracking start with the display of the Men's Collections in Milan, Paris, London, New York and Pitti Uomo. (You will be entirely unsurprised to learn that the Men's Collections are where menswear designers show their new collections.) On rare occasions, a designer of both men's and womenswear will show both at the same time (like Yohji Yamamoto) but for the most part "fashion week" – as with fashion in general – is dominated by womenswear.
This column doesn't really have anything to do with the Men's Collections, but they got me thinking about menswear. I love menswear: I love talking to men about what clothes they like wearing and especially when they're into wearing skirts (that's right: Marc Jacobs, represent.)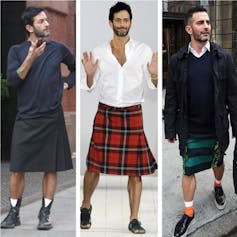 Designer Marc Jacobs often wears skirts (and, dare I say it, looks v. cool while so doing.)
Christine Jun/
Heck, I even like wearing men's clothes myself – men's hats, jumpers, shirts – I even have a gorgeous vintage cravat that, frankly, looks entirely ridiculous on me but it is such a beautiful shape and fabrication I can't let it go.
Which got me thinking: Western women have been wearing pants for decades now without it being socially stigmatising … so why hasn't it gone the other way? Why is the sight of a Western man in a skirt still so rare? Especially in Australia, where temperatures at the moment are skimming between uncomfortably sweaty and unbearably hot, it would make much more sense for men to don a light skirt and feel cool while they look cool (see what I did there?).
It actually wasn't until the early 19th century that Western men stopped mixing bloomers, skirts and long shirts with their wardrobe of breeches and stockings, and adopted slim trousers as standard masculine attire . The French Revolution precipitated the change as the opulent and colourful styles of the previous century were shed in favour of simpler, plainer clothing that symbolically reflected the abolition of class difference in France.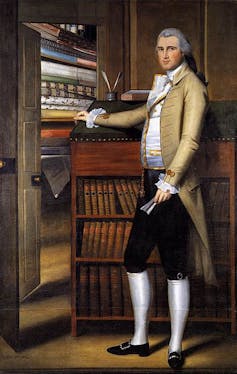 "Elijah Boardman" by Ralph Earl, showing the dominant men's fashion in the wake of the French Revolution.
Ralph Earl/ Wikimedia Commons
For men, this meant adopting the full-length trousers that had previously been worn by the working class (rather than the pantaloons and stockings of those high-kicking, cake eating First and Second Estaters!)
Trousers then became fashionable throughout Europe, a trend that was reinforced by practicality during the Industrial Revolution, as they offered workers more bodily protection.